...summer of 1984. Sifting through a storage unit revealed some pics I took 26 years ago when I had better eyes and a bigger budget. I started it in 1983, just before I went to NCO school. It was a single track folded dog bone that went under itself. Built it from job site scraps so I could concentrate on motive power and rolling stock. You could have had a brawl on it and it wouldn't have dinged a rail. Just before I went into Bible College in '90, I left model railroading for about 2 years and donated the whole smack to a local club. Still see bits and pieces of it all over their N-trak and permanent layout.

The Eastern Shore Line was a mythical operation that theoretically ran the length of the Delaware/Maryland/Virginia Peninsula. Locals like to think of it as the state of Delmarva. Please forgive the yellowed and grainy pictures.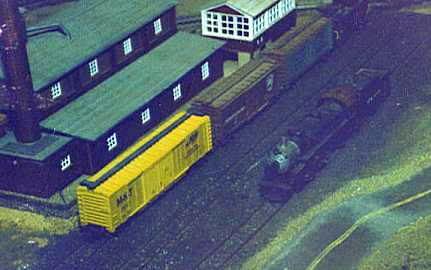 Once in Berlin Yard, we find a New Haven Pacific wondering where the heck are we?....My roads were done with 400 grit emery cloth with seams finished with plastic model putty. Once down, I'd paint the lines and go over it all with Dulcote.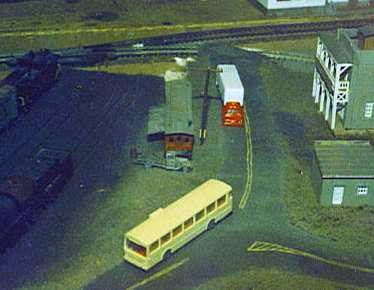 Route 113 is two lanes through Maryland. Here it is passing the ESL Berlin Yard office to the left and Harrison Hall hotel to the right. That Pacific was an Atlas product and quite a good runner, one of my best locos and capable of pulling a string of 15 cars up the 3% grade into town.

That bus was a Wiking product I picked up on a whim. When I realized how European it was, it was too late to return it, so it became my first foray into Prototypical Plausibility Stretching 101.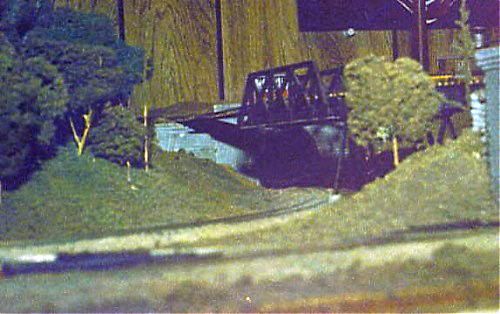 The ESL's one bridge over what was since named Confederate Gap, near the town of Snow Hill, a quiet reminder of where the Peninsula's sympathies lay back then. In 1986, the remains of a Confederate soldier were found near there and buried with full military honors some time later. (True story, only the location has been changed) My bridge was built one piece at a time, in place, with trains in operation. I would glue the ties directly to the bottom of the rails and, once halfway across, removed any temporary support. A little hairy for my LPBs but, it kept the trains rolling.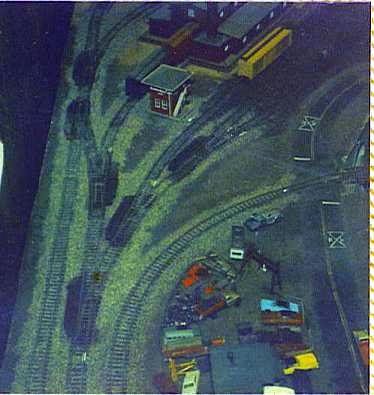 Looking east into Berlin Yard and Roswells Processing Plant....



A glimpse of my control panel can be found in this shot, built on company time in the sheet metal shop My two most faithful runners, a Life-Like F unit and a Con Cor PA (gee, I miss them, sigh) idling at the ESL's Selbyville servicing facility. As seen on the panel, with some clever positioning of track, I was able to stuff in a 3 track mainline on a layout only 2'6" x 3'8" in size.



The last shot shows Route 113 passing through farm country. The gray house to the right was one of my first scratchbuild projects, a farmhouse built in a crumbling condition, using cardboard and split match sticks. It is in the first picture, shown with the junkyard that grew around it. One can barely make out Bubba's puddytat standing on the railing of the house on the left. My trees were lichen spray painted dark green then rolled around in a box of ground foam, then poked onto a twig trunk. Hope you enjoyed this little excursion into my modeling past.